Awakening 2 - Managers are Heroes
Leaving the age of 2D-Managers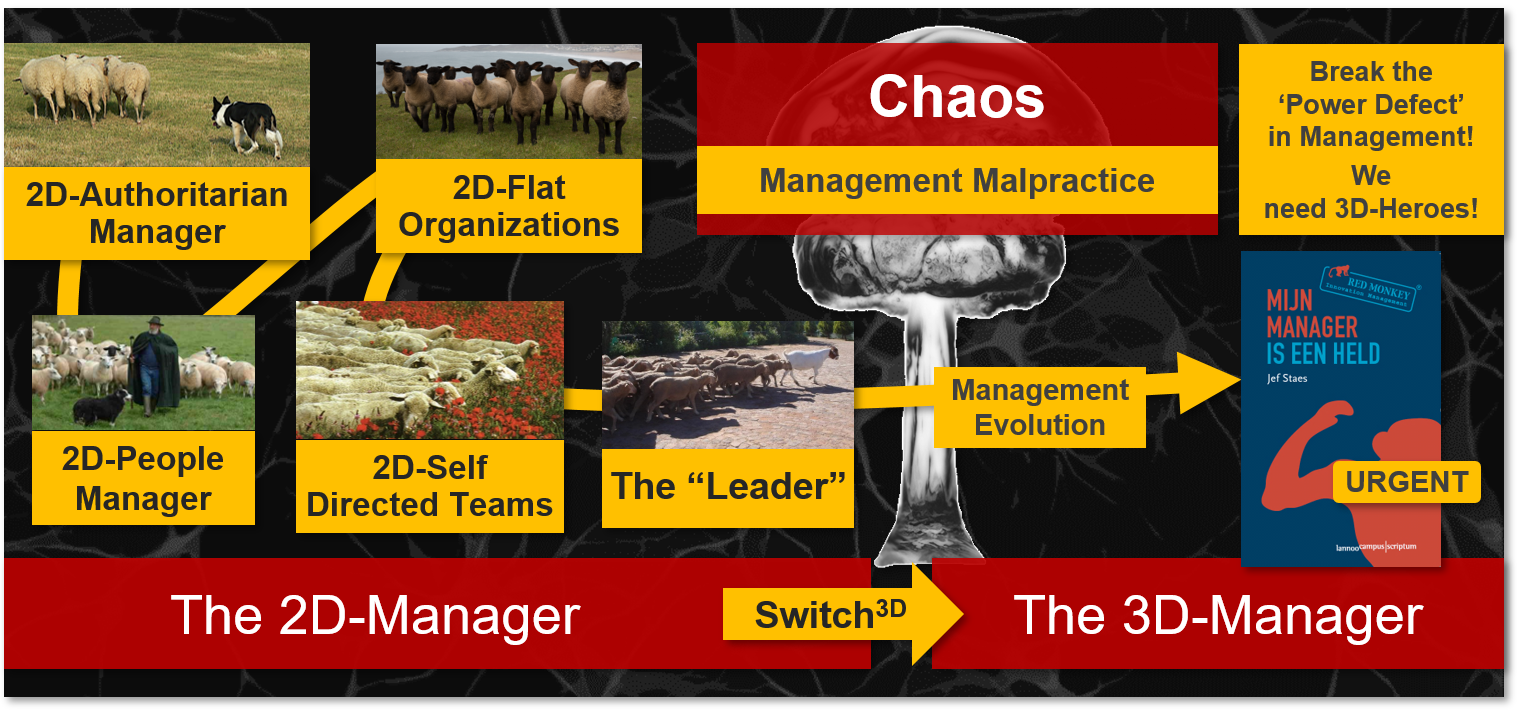 One of the biggest failures in organizational development is keeping your management style synchronized with evolution.
This part of the awakening will focus on the evolution of 2D-Management Styles in a 2D-Period of information shortage and continuous improvement. Even in this relative calm period it took ages to embrace the passion and talents of people. Organizational development was always one or more steps behind reality.
Today we are facing a dramatic disruption in Management Style. Not every 2D-Manager has the needed Passion and Talents to become a 3D-Manager. We have to face the 'Power Defect' in management in order to built teams that are able to be agile in a world of ever changing needs for different passion and talents in a team.
Awakening Points
Accept the failure of 2D-Management Development.

Accept the end of a 2D-Management Style (including self-directed teams).

Accept the Power Defect in Management.

Accept the need for disruption in management and accept the consequences.

Accept the value of a 'manager'.
ENTERING THE AGE OF 3D-MANAGERS
A manager is a 3D-Smart with the passion and talents to get things done in this ever changing 3D-Age.
Executives have to understand that we are entering the next step in our evolution where we have to reinstate the position of managers. We need 3D-Managers who are professionals in creating dynamic teams with the right 3D-Smarts at the right moment. Without this 3D-Management Style it will be impossible to develop agile Red Monkey Innovation Management. Your organization will be too slow in disruptive creative entrepreneurship.
Awakening Points
Accept the the need for 3D-Managers.

Accept that not every 2D-Manager will be able to become a 3D-Manager.

Accept the Engine of Innovation Compass for casting, development and supporting 3D-Managers.

Accept the Engine of Innovation Competence Playlist for 3D-Managers.

Accept the consequences of embracing the 3D-Management Style. It will disrupt the employment of 2D-Managers.
THE ENGINE OF INNOVATION AGILITY MATRIX
In order to develop a 3D-Management Style we developed the EOI Agility Matrix. With this holistic tool we connect all the actions to be taken to install a 3D-Management Style in your organization.
During this part you will be able to taste the potential of this Engine of Innovation Development Tool.
Awakening Points
Accept the art of 3D-Visioning, 3D-Casting, 3D-Learning, 3D-Investing and the impact on Personal Development, Management Development and Supporting Processes.

Accept the EOI Agility Matrix as a framework for EOI Tuning Projects (transformation projects that will boost the power of your Engine of Innovation).

Play the EOI Agility Matrix Game to understand the scope and disruptive impact of EOI Tuning Projects on your organizational culture.

Accept the disruptive nature of the EOI Agility Matrix.